Background
The following is a transcript of Dr. Rosaura Sánchez's (University of California San Diego) presentation, "The Construction of Latina Agency in Early Southwest Literature," given at the XV Recovering the US Hispanic Literary Conference on Friday, February 21, 2020 in Houston, Texas.

Image 1: Dr. Rosaura Sánchez speaks at the XV Recovering the US Hispanic Literary Conference, held at the University of Houston.
Presentation
Buenas tardes. Good Evening.
I'm happy to be here with you at the Recovery Conference and back in Texas, my home state. My special thanks to Nick Kanellos, whom I've known for over 50 years, for the invitation and for having fathered and fostered the Recovery Project at the University of Houston.
(50 years go, this conference would have been unthinkable; there was no field of Chicano/a literature.)
Dinner talks are generally funny or celebratory. I'm afraid I don't do funny, especially in these dark times given our political situation in Washington and our ecological situation in the world. But those are other matters. There are, on the other hand, many reasons to celebrate the success of the Recovery Project at the University of Houston, a noteworthy archival project that has collected the fiction, essays, poetry and journalism of earlier Latinas and Latinos in the Southwest, Northeast and Florida, starting back in a time when no one else cared to do so or considered that it was worthwhile to archive this material.
My talk today will touch on Latina agency and its construction in our Southwest literature, especially in our earlier recovered literature.
Unbelievably, it's been about 27 years since Beatrice Pita and I republished María Amparo Ruiz de Burton's novel The Squatter and the Don with the Recovery Project and since then a good number of other works by both men and women have been recovered and published. I don't think it is an exaggeration to say that Ruiz de Burton's texts have operated an important shift in the U.S. 19th century literary canon and generated and enriched discussion regarding gender, race, and identity in U.S. literary studies. Her work has not only constructed a third literary space outside the black/white binary, but it's also served as referent and impetus for other recoveries.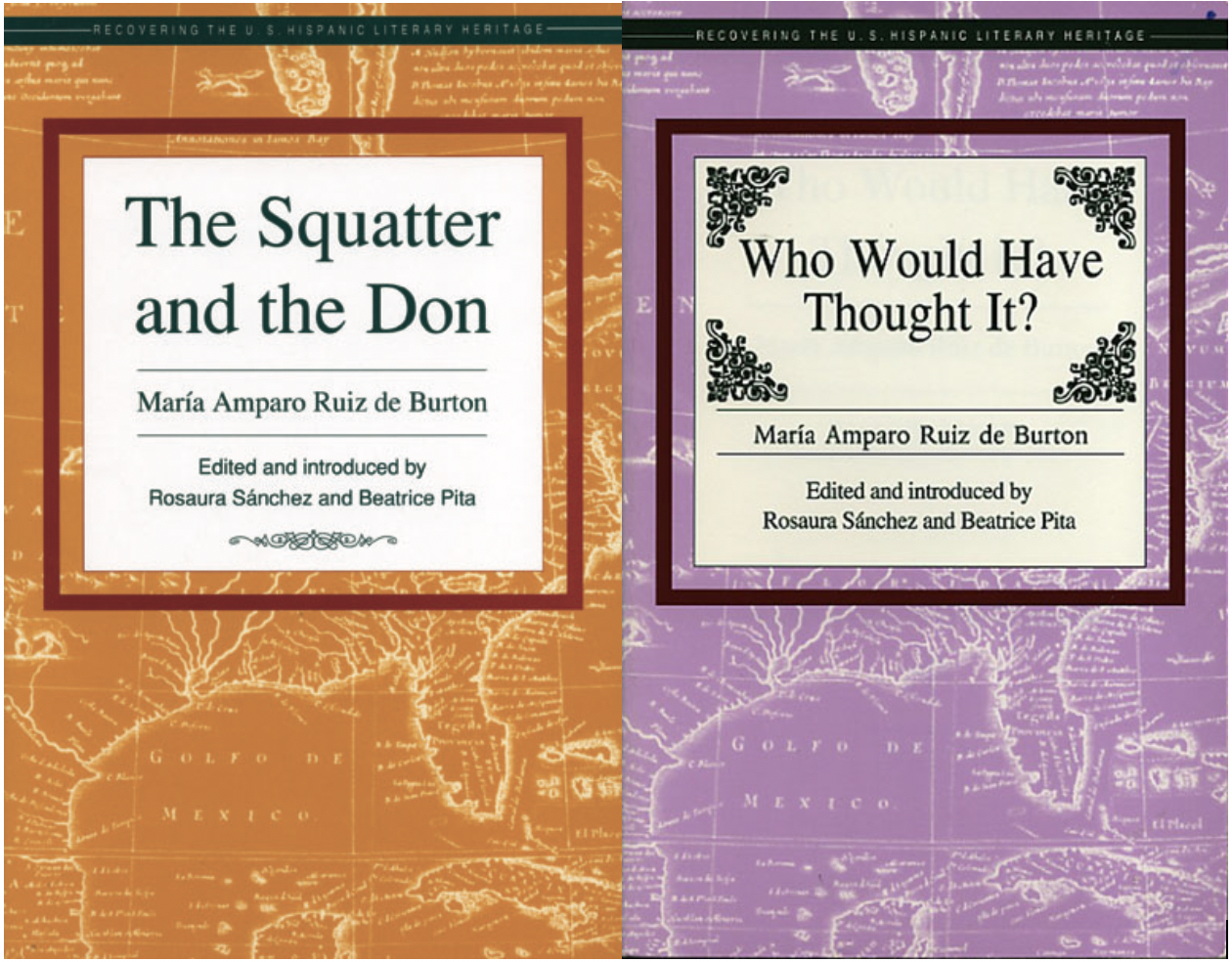 Images 23: Arte Público Press reprints of Ruiz de Burton's The Squatter and the Don and Who Would Have Thought It?
Looking back and drawing on earlier works from the perspective of 21st century readers, we find that Latina women's lives have changed dramatically in some ways and yet not in others. Latinas today are marked not only by a growing visibility and agency but by a number of issues, some of which can be traced back to the 19th and early 20th century. Among these are of course domestic violence, reproductive rights, sexual rights, feminicide, rape, misogyny, suffrage, accessibility to higher education and to particular professions, like medicine or law, the right to choose a mate or partner in a society where marriage was often arranged by a parent, the right to own property independently of a husband, the right to work outside the purview of a male guardian, the right to travel alone or appear in public alone. Since the 19th century, these issues have also generated women's collective struggles, especially when it comes to suffrage, reproductive choice, and labor rights.
Some of these issues have been class specific but others more generalized. Feminicide, especially the disappearance of Latina, Mexicana, and Native American women, misogyny, and domestic violence are issues that continue to dominate our own times; more recently immigrant women have also faced having to see their children caged. Women's struggles have also evolved, especially among younger women, as is evident in the radical feminist movements of young women's marches declaring "el violador eres tú," a movement that has spread–with good reason–from Chile to Mexico and across the globe.
Not only are Latinas today more politically active but also there are many more of us in the labor force, although many of us are in the service sectors; still, there is a growing number of Latinas that are professionals and among them are an ever - growing number of writers, many of whom still find it difficult to get ourselves published, a circumstance that we share with women in the past, including Ruiz de Burton.
A fast review of Arte Publico's Recovery catalogue shows that more men's texts, however, have been recovered than women's. Is it because we wrote less or because we found it hard to be published? In the catalogue we find that in addition to Ruiz de Burton's novels and letters, the project has recovered the work of Luisa Capetillo, Adina de Zavala, Jovita González, María Cristina Mena, and Leonor Villegas de Magnón.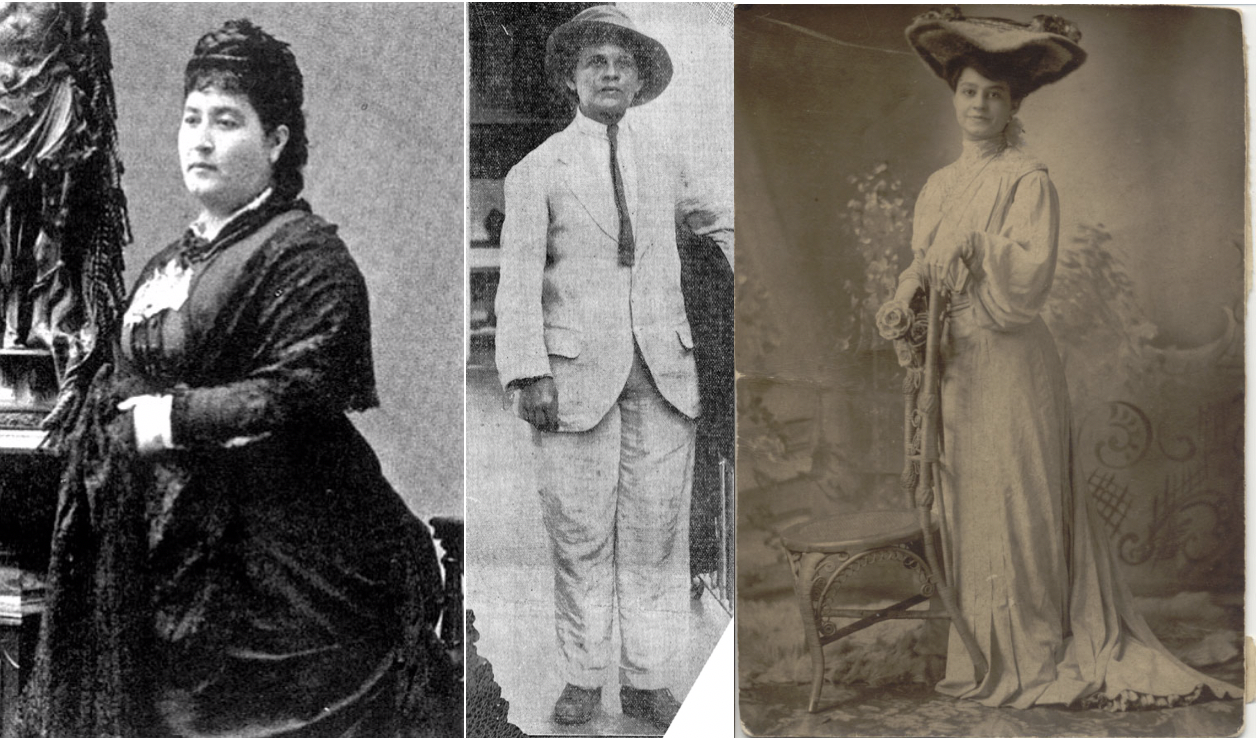 Images 4-6: From left to right, María Amparo Ruiz de Burton, Luisa Capetillo and María Cristina Mena. Photographs courtesy of Recovering the US Hispanic Literary Heritage Collections.
Let's look for a moment at the traits of these published authors. Who were these women whose work has been recovered and what social class perspective did they represent? Most, we have to admit, were middle class or upper middle-class women with an education. In their fiction women are portrayed as having some degree of agency–but whose agency? It will be, for the most part, the agency of the wives and daughters of, in some degree or other, upper class rancheros, as in the fiction of Jovita González or María Amparo Ruiz de Burton, or the agency of teachers and journalists and middle class activists as in the work of Leonor Villegas de Magnon or Jovita Idar. In some cases, the writer is an educated Mexican immigrant, as in the case of Maria Cristina Mena, and more interested in local color and events taking place in Mexico. It certainly is not the agency of women working in the Southwest fields or as maids or caretakers. While we should not create distinctions separating natives from immigrants, we do need to look at the focus of these writers with a critical discerning eye.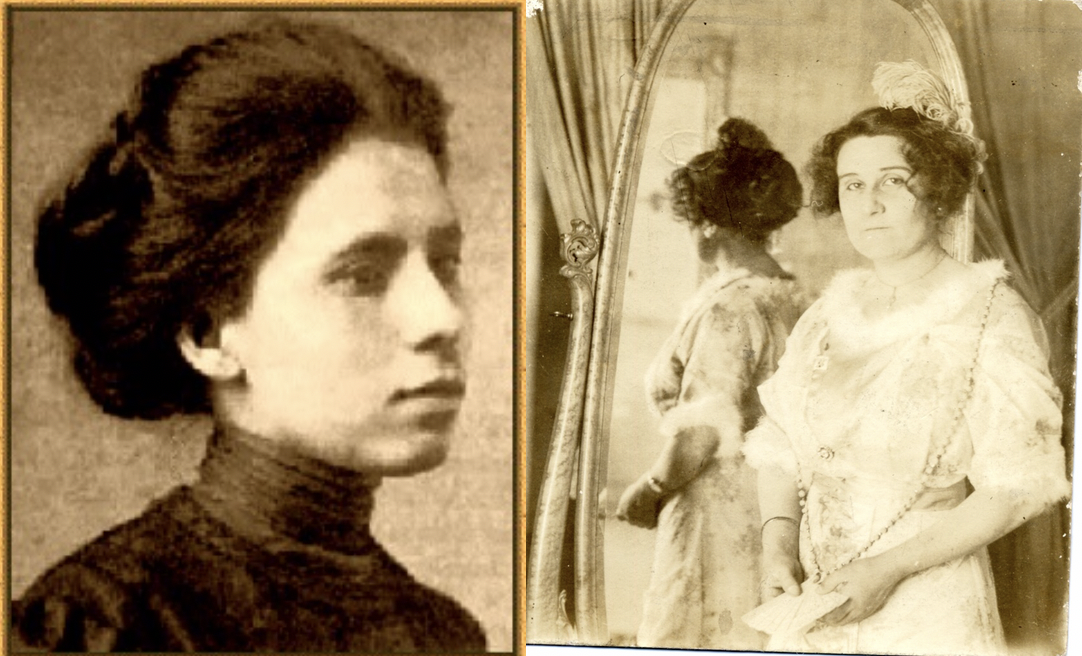 Images 7-8: From left to right, Jovita Idar and Leonor Villegas de Magnón. Photographs courtesy of Recovering the US Hispanic Literary Heritage Collections.
Strikingly, the agency constructed in many of the recovered texts is often in relation to marriage. In Jovita González's Caballero, the daughters of the Rio Grande ranchero Don Santiago show their agency in deciding whom they will marry. The daughters will marry well-to-do Anglo invaders, as these men offer a better life. It is not surprising that Maria Amparo Ruiz chose to marry the U.S. soldier Lieutenant [Henry S.] Burton. He too offered a way up and out of limited and limiting circumstances. In her novel The Squatter and the Don, the daughter of the Californio Don Mariano Alamar falls in love with the enterprising Clarence who will become a thriving capitalist and save the Alamar family from destitution. Marrying an Anglo is presented in positive terms, as an opportunity to move up in society and unite the invaded and the invaders. Social mobility is seen to be key to having agency. The perspective is always financial gain and social positioning. Much is made in these "pairings" of the "superior qualities" of the women and their families; much too is made about distancing them from the "lower orders" in terms of race, culture and class, as in the early works of the nuevomexicanas Fabiola Cabeza de Baca and Cleofas Jaramillo.
Similar situations are constructed in early 20th century works written by men. In Adolfo Carrillo's 1922 Cuentos californianos women are presented as strong and decisive, but always in terms of their romantic relations. The women are shown to be able to gain revenge against abusive men, be they priests or ranchers or miners, Mexicans or Anglos, who seek to deceive them. Ruiz de Burton again stands out here in that women in her texts also "talk business," even if in the context of a defense of their families.
Try as we might, however those of us from working class families can search all we want but we will not find our families represented in these early recovery texts, except perhaps in Under the Texas Sun by [Conrado] Espinoza or in [Daniel] Venegas's Don Chipote. A rapid overview of our literature will reveal that it will not be till the late 20th century that Chicana writers begin constructing strong working class female characters, like the field workers and barrio dwellers represented in Helena María Viramontes' novels and stories, or the cannery workers and field workers in Cherríe Moraga's plays, as but two examples. The question is: who do we write about and for whom do we write?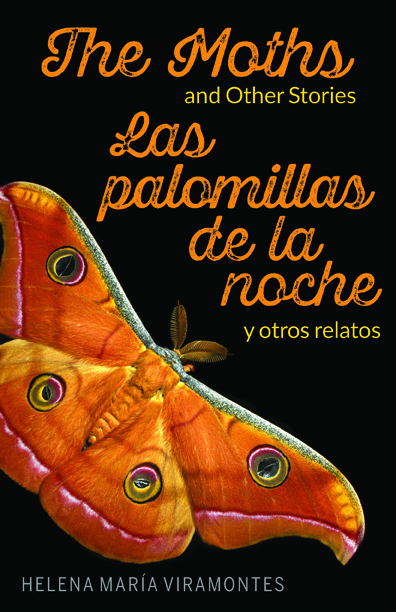 Image 9: Cover of Helena María Viramontes' The Moths and Other Stories.
Allow me to pivot briefly: The recent controversy over Jeanine Cummins' book American Dirt addresses the very old and yet very current problem of who is represented and who is published. It is not so much that Cummins is a non-Mexican writer representing and ventriloquizing the plight of an immigrant woman fleeing the violence in Acapulco but that the character portrayed is unlike the majority of Mexican or Central American working class and rural women seeking refuge in the U.S. The character is, after all, a professional businesswoman with a credit card and access to ATM money.
The problem thus is not the ostensible Puerto Rican or Spanish birth origin of the writer, not at all, but the lack of research on immigration today and the social class location of the character that is constructed in the Cummins novel. The author opportunistically presents a character that will prove attractive and relatable to mainstream press readers (read: white/anglo-saxon readers of a certain class), that will let matters of verisimilitude fall by the wayside as the novel pushes buttons of affect and timeliness.
This controversy also brings to mind another quandary that any recovery project faces. In our search for a past literary heritage, we may be all too quick in recovering and celebrating writers with Spanish surnames or links to the Southwest that are racists or condescending to the collectivities they purport to represent.
Consider for example the travel narrative by Lorenzo de Zavala, a pioneer to some Tejanos, but a vendido and traitor to others. Although from Yucatán, he did not view Mexicans in a favorable way, neither those in Mexico nor those in Texas. As he says, "The Mexican is easy going, lazy, intolerant, generous almost to prodigality, vain, belligerent, superstitious, ignorant and an enemy of all restraint. The North American works, the Mexican has a good time" (2). De Zavala finds everything in the U.S. worthy of praise. The U.S., he says, has much to teach Mexico at a moral level (194). While the imperialist invasion of the U.S. in 1846 occurred after Zavala's death, he did favor Texas' filibustered independence and perhaps he would have found the 1846 invasion "moral" and uplifting as well.
While in the U.S. de Zavala has dinner with President Jackson, calling him one of the "great historical personages of the Anglo-American republic" (133). De Zavala apparently does not recognize or have any qualms regarding Jackson as one of the great butchers of indigenous populations in the South and responsible for the Removal Act of 1830. There are other comments in de Zavala's text that one can take issue with, but the point I want to make is that although we must recover what came before, it must be with a critical perspective. Recovery need not be uncritically celebratory; even archaeological digs run their recovered artifacts through sieves or filters to determine the artifact's authenticity or relevance.
We must face up to the fact that some Mexican refugees or immigrants in the early 20th century looked down their noses on the working-class Mexican settlers living in the Southwest, as do some Mexican academics even today. Of course, one cannot deny that these individuals are part of our history, as is de Zavala's granddaughter, Adina de Zavala, daughter of an Anglo woman and the granddaughter of another Anglo woman, de Zavala's second wife. Her interests lay not with us, the Tejanos/as but with the men at the Alamo. Her work is focused on saving the Alamo as a shrine to Texas independence and ignores that those who died were almost entirely non-Texans or non-Tejanos. Is her archive to be celebrated or viewed under a critical lens? Is she to be held up as precursor, as a worthy ancestor by the sole virtue of carrying a Latino surname? It will be the more recent novel Blood Memory by Emma Pérez that will recognize and textualize what Paco Ignacio Taibo has so clearly pointed out in his work on the Alamo. History was and continues to be a contested terrain.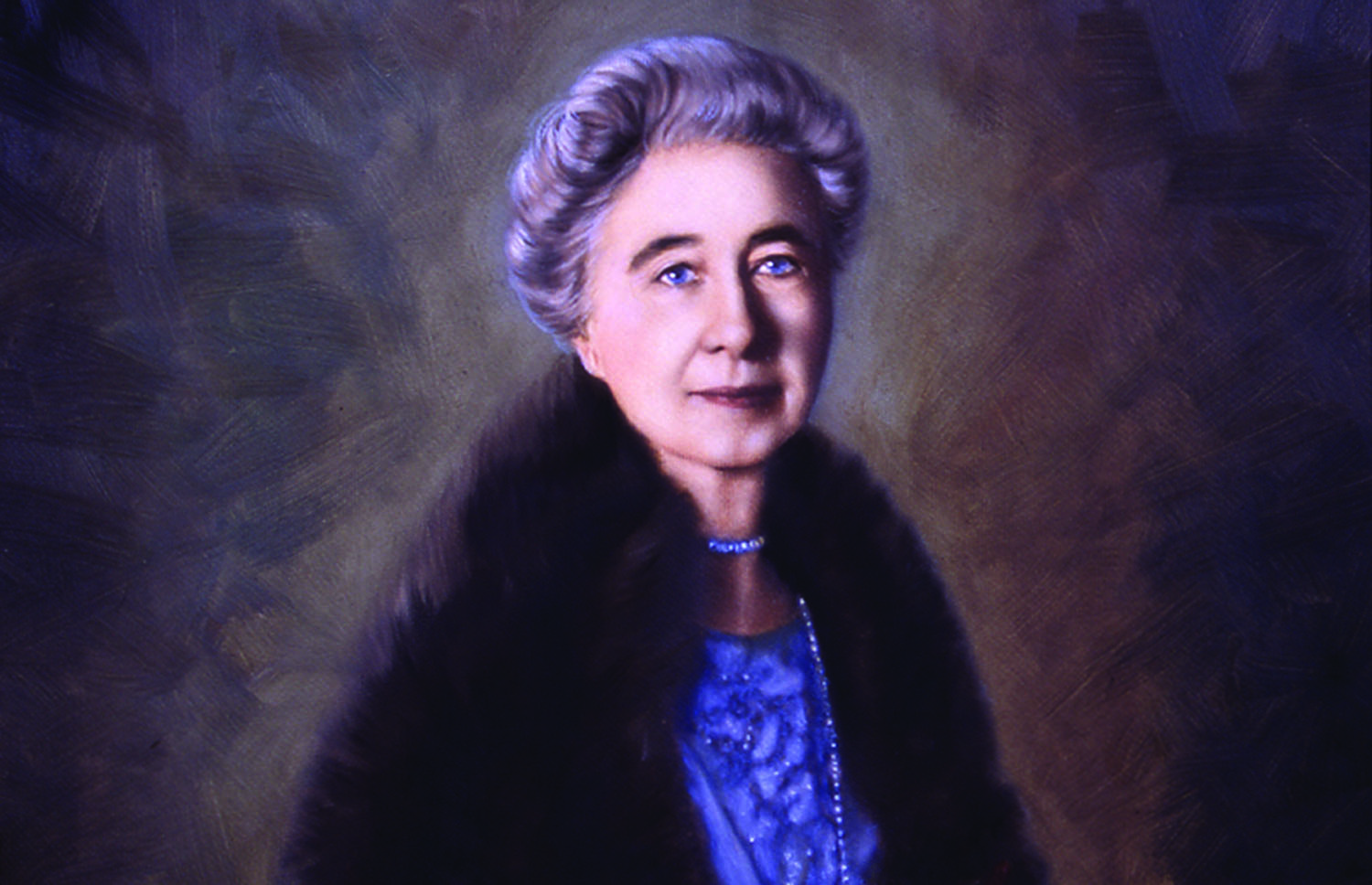 Image 10: Adina de Zavala. Photograph courtesy of Recovering the US Hispanic Literary Heritage Collections.
Ours is in large measure a history of violence and dispossession and for that reason it is important to construct our past critically. Recover we must, but with a critical perspective to point to the spatial and discursive violence that has been and to some degree continues to characterize our histories. (And by the way, "Spatial and Discursive Violence" is the title of Beatrice's and my manuscript soon to be published by Duke University Press.)
Let's take, for example, the work of the early 20th century New Mexican governor and writer Miguel Antonio Otero, who has been identified in a Recovery text as an "Hispano." According to historians like Juan Gómez Quiñones, and Cynthia Secor-Welsh, Otero was not born in New Mexico but in Missouri and identified as white, and wanted little or nothing to do with nuevomexicanos, that he called "this class of people." In fact, he disliked the Hispano population, despite being selected by President McKinley to be governor of the New Mexican territory and only brought out his "hispano" bonafides when it came to securing votes.
One important exception to the class location of these recovery ancestors is the 20th century Recovery Project's publication of Women's Tales from the New Mexico WPA volume. The Federal Writers Project of the Works Progress Administration published numerous volumes during the late 1930s, some of which have been re-issued and brought up to date. Most provide tourist guide glimpses of different places in various states, but strikingly, that is not the case in the New Mexico WPA collected materials.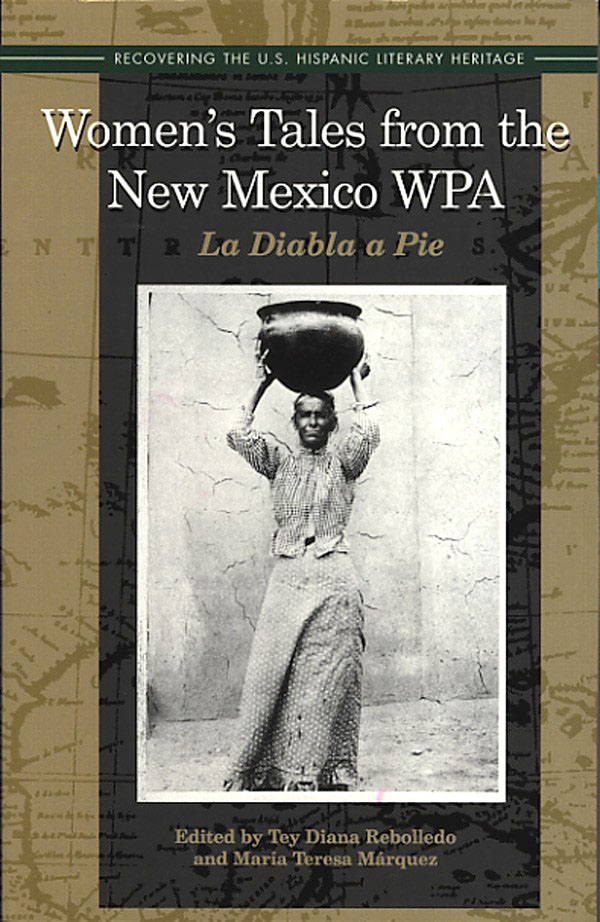 Image 11: La Diabla a Pie: Women's Tales from the New Mexico WPA, published by Arte Público Press.
La Diabla a Pie, edited by Tey Diana Rebolledo and María Teresa Márquez, provides Women's Tales from New Mexico collected by writers working for the WPA. Finally, in this volume we find the voices of women from rural areas, from women that are indebted peons, since both men and women were held in that type of bondage in a system of indentured peonage. Here we find the voices of campesinas who were interviewed and provide numerous stories about the 19th and early 20th centuries in New Mexico. More texts like these need to be unearthed to broaden the scope of "recovered voices," that have too often been limited to the higher, whiter, more privileged amongst us.
From my admittedly limited perusal, another place where we find references to working class women is in the legal realm, the world of court cases and judgments in which the state intervenes in the affairs of those otherwise lacking voice and presence. A brief example is called for here. In a collection of post 1848 New Mexico supreme court cases (Charles H. Gildersleeve's Reports of Cases Argued and Determined in the Supreme Court) there are several examples of cases of women seeking to escape bonded servitude–indentured peonage in which debts contracted by peons could be inherited by wives and children required women to continue serving the landowner (cases that are also presented in the New Mexico WPA tales). Faced with this situation, these women sought relief under U.S. laws. In some cases, workers were brought before the court by patrones demanding to retain the service of women whose labor, it was argued, was contractually owed to pay off their debts. In one particular case, a woman who escapes servitude by leaving the house of her patrón is brought before the court by the New Mexican landowner, but the court rules that there is no evidence of debt. In another case, a young girl is being required to serve as a servant to pay off her peon father's debt, but the court finds that after 1848 debts could not be inherited, as they could before, under the Spanish and Mexican systems.
These court cases also reveal that under Napoleonic code, operative in Latin America, women could own property inherited from their fathers without its being declared the husband's property, as was the case in the U.S. femme couvert cases. Women of different classes were thus able to make use of Spanish law to protect themselves and their property, even after 1848. All of this brings to light that our research may require seeking out not only works of fiction, poetry and essays, but other sources, like interviews, court cases, and journalistic articles. And it is here that the Recovery Project is carrying out what I am certain will prove a treasure trove of new intriguing material that will catalyze the field.
Expanding the archive and reconstituting our past, especially that of women, are scholarly and ideological obligations in which we all should participate. But let us recall that our past is quite contradictory and complex, and while recovering those past writings is crucial, so is recovering them with a critical perspective.
Somos los que recordamos, pero también los que olvidamos. No caigamos en la desmemoria ni en lo que podría llamarse la contra-memoria o la memoria parcial.
Queda mucho por hacer. There is much yet to be done.
Thank you. / Gracias.
- Rosaura Sánchez
Works cited
Gildersleeve, Charles H. Reports of Cases Argued and Determined in the Supreme Court. Chicago, Callaghan & Co., 1911.
Rebolledo, Tey Dianna and María Teresa Márquez, eds. La Diabla a Pie: Women's Tales from the New Mexico WPA. Houston, Arte Público Press, 2000.
Ruiz de Burton, María Amparo. The Squatter and the Don. eds. Rosaura Sánchez and Beatrice Pita. Houston, Arte Público Press, 1992.
_____. Who Would Have Thought It? eds. Rosaura Sánchez and Beatrice Pita. Houston, Arte Público Press, 1995.
Sánchez, Rosaura and Beatrice Pita, eds. Conflicts of Interest: The letters of María Amparo Ruiz de Burton. Houston, Arte Público Press, 2001.
de Zavala, Adina. History and Legends of the Alamo and Other Missions in and around San Antonio. ed. Richard Flores. Houston, Arte Público Press, 1996.
de Zavala, Lorenzo. Journey to the United States of North America/VIaje de los Estados Unidos del Norte de América. ed. John Michael Rivera. trans. Wallace Woolsey. Houston, Arte Público Press, 2005.